SMS 4U!
You probably have a mobile phone!?? Well, if so, I guess (I guess = ich vermute) you write about 3 to 10 text messages per day to your friends? Now, let's make sure you can also write an English text message! It's very similar to German messages. The abbreviations (Abkürzungen) are often the same.
Du hast garantiert ein Handy, oder!?? Na, dann vermute ich mal, dass Du pro Tag so ca. 3 bis 10 SMS an Deine Freunde verschickst? Dann wollen wir mal sehen, dass Du in Zukunft auch Englisch SMS schreiben kannst! Viele Abkürzungen kennst Du schon und daher ist eine englische SMS oft ähnlich wie eine deutsche SMS!
Have a look at the presentation!
English text messages
Write an English text message!
txt msing.ppsx
Microsoft Power Point Präsentation
134.7 KB
Write a text message!
Here is what you have to do again!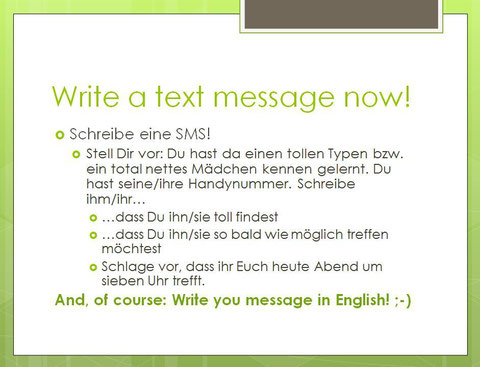 These abbrevations will help you to write the message!
Die Abkürzungen helfen Dir beim Schreiben. Klicke auf das Bild, um den Text besser lesen zu können!
----------------------------------------------------------------------
Just in case...
If you need even more abbreviations, download the file below!
Könnte ja jetzt sein, dass Du Geschmack an den Abkürzungen gefunden hast? Ja? Dann nix wie Datei runterladen!

text abbreviations
Abbreviations for writing
What_u_need_4_chatting_emails_and_text_m
Microsoft Word Dokument
27.2 KB